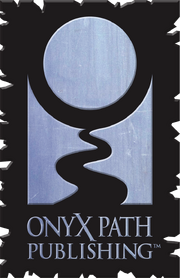 Onyx Path Publishing is a company started by Richard Thomas in January 2012, currently licensed by CCP hf to develop and publish tabletop RPG products for the World of Darkness, Classic World of Darkness, and Exalted under the White Wolf brand identity.
Onyx Path also has full rights to former White Wolf properties Scion and the Trinity Universe.
In addition to licensed properties and its own projects, OPP will be publishing several creator-owned properties, such as Rose Bailey's Cavaliers of Mars.
Following Black Wednesday in October 2011, CCP wasn't really in a good place to publish White Wolf products anymore. After long discussions on how to best support the RPG properties, it was decided that Rich would start his own company, Onyx Path Publishing, and this company would publish the White Wolf RPG properties on CCP's behalf.
Rich created the company in January 2012, and immediately took up production of White Wolf properties.
The transition was fairly seamless, although negotiations caused some stalling with the timing of releases. The first Onyx Path release (the WTF/WTA: Werewolf Translation Guide

) came out in April 2012, bearing the first Onyx Path brand.
In approximately March 2012, Rich got confirmation that he had acquired the full rights to Scion and the Trinity Universe. Also in that month, the COM: Cavaliers of Mars Quickstart
was released. Cavaliers is a project by VTR developer Rose Bailey, and the first of Onyx Path's creator-owned projects.
The exact nature of OPP was relatively obscure until the official announcement was made at GenCon in August 2012.
Publishing Model
Edit
Onyx Path Publishing follows the same foundational model set forth in mid-2010 by White Wolf. The traditional publishing model, and the standard distribution model in specific, were less and less favourable to RPG publishers over the years.
The decision was made to abandon traditional publishing in favour of a PDF/Print on Demand model, facilitated by OneBookShelf (DriveThruRPG, DriveThruFiction, etc.). This provides a number of direct benefits:
Books are kept in print indefinitely
OPP can continue to make money on books regardless of age
Corrections can be made relatively painlessly
Books are available for sale as soon as they're deemed complete
Books can be available in a number of options: black & white, standard colour, or premium colour; hardcover or softcover.
Onyx Path has built on that foundation by providing a series of Kickstarters to fund limited-edition deluxe releases. These releases are created using a fairly small traditional print run, sufficient to provide copies to all the project backers.
One of the unfortunate effects is this model in its intent to avoid distributors is that books are no longer available in stores. In an attempt to rectify this, Kickstarters have "retailer tiers" so retailers can order the deluxe editions. OPP and OneBookShelf are also beta-testing a program to where retailers can order print on demand products at a discount.
Community content is available under
CC-BY-SA
unless otherwise noted.